SUBURGATORY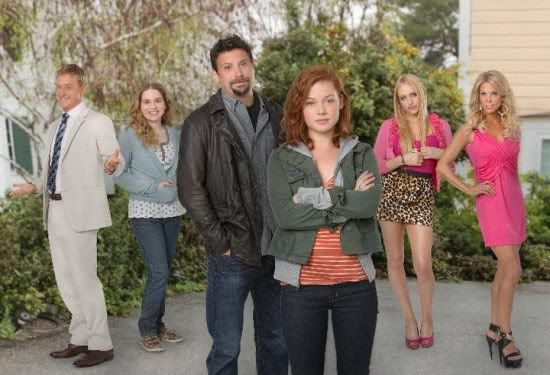 When and Where:
ABC; Wednesdays 8:30/7:30c; Debuts Sep. 28
Who:
Created by Emily Kapnek (As Told By Ginger, Parks & Recreation); Cast includes Jeremy Sisto (Six Feet Under), Cheryl Hines (Curb Your Enthusiasm)
What:
A teenage girl is transplanted along with her single father from New York City to the middle of the 'burbs. Once there, she starts to question how perfect life there seems, acknowledging how creepily Stepford-esque all her new neighbors and classmates are.
Why:
Wow. I must say this one looks like it could be really good.
Suburgatory
joins the Wednesday night LaughOn lineup airing on ABC. (This block will also be joined in the fall by another comedy block on Tuesdays, but we're not talking about that.) Not only does it fit in so keenly with two of the three returning series making up the lineup in the fall, but also with the long history of family comedies airing on the network. It looks to offer a both quirky and sarcastic portrayal of teenage life, with the addition of apt portrayals of the parents roaming about the landscape with their own social goals in mind. And this can easily yield a very funny new show that young people can identify with.
In it's quirky dialogue and the tone that goes with it,
Suburgatory
almost reminds me of the 2007 movie
Juno
. If the trailer is any indication, this will be as funny and provide as equally strong a satirical look at adolescence and the complex relationships with the adults around them. And with an even more biting tone in regards to it's satire, this show can only evoke the most flattering comparison to the 2004 hit
Mean Girls
.
Slated to air right between pre-established family-com hits
The Middle
and
Modern Family
, both of which paint truly relateable and funny images of ordinary family life,
Suburgatory
promises to fit right in and keep the good times rolling.
Lynx:
Official ABC Page
Facebook Page
Trailer: