ALLEN GREGORY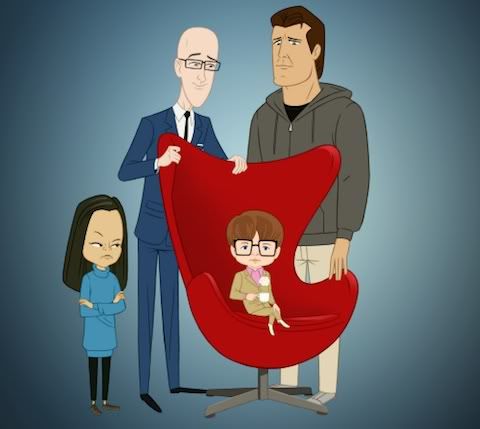 When and Where:
FOX; Sundays 8:30/7:30c; Starts Oct. 30
Who:
Created by Jonah Hill
What:
Allen Gregory is perhaps the world's most pretentious 7-year-old boy. A child prodigy used to home-schooling, he must prepare for a clash with reality upon attending public school for the first time.
Why:
This is only one of two new animated sitcoms FOX is trying out this season, hoping to capitalize further on their immensely successful Animation Domination lineup. I grew up in the 1990's, surrounded by innovative (for the time anyway), creative and thoroughly entertaining cartoon shows for both adults and kids alike. It's unsurprising, then that I take quite a liking to the Sunday night FOX lineup, as much as the fact that
The Simpsons
, one of the shows I distinctively recall watching growing up is still on the air today.
One man who was clearly influenced and motivated by
The Simpsons
, actually admitting that he always wanted to write for it as a kid, is comedy superstar Jonah Hill. As an actor, Hill has worked with major bigwigs like
Tom Shadyac
,
Adam Sandler
, and most notably
Judd Apatow
. With the film background he has, the star was able to parlay his success and develop a major animated TV series, a dream come true for him.
From what I've seen,
Allen Gregory
seems funny enough, reliant on a sense of wit that almost reminds me of
Frasier
from time to time. It seems awfully high-class for a FOX sitcom (and especially for a block dominated by Seth MacFarlane), but that's mostly derived from the protagonist. One bit that had he smiling was asking for his teachers
first
name and feeling exhausted when she questioned his approach. In addition, the flash animation maintains a solid pace and gives off a unique style that suits the choice of lead character well.
In addition to the debut of this show following the World Series, FOX also has
Napoleon Dynamite
, based on
the independent film
of the same name slated for midseason. Also returning midseason is
Bob's Burgers
, a show from the
Dr. Katz
team that did solidly debuting in the middle of last season. And on top of that, the creators of
Family Guy
are trying to revive
The Flintstones
for next season. In the midst of all of this animated work, all of it coming together to make FOX even more distinctive than it already is from the other broadcasters,
Allen Gregory
seems to work rather solidly as the new showcase for the Fall.
If anything, I think I may like it more than
New Girl
. (Although you are free to chalk that up to bias.)
Lynx:
Official FOX Network Page
Facebook Page
Trailer: