NEW GIRL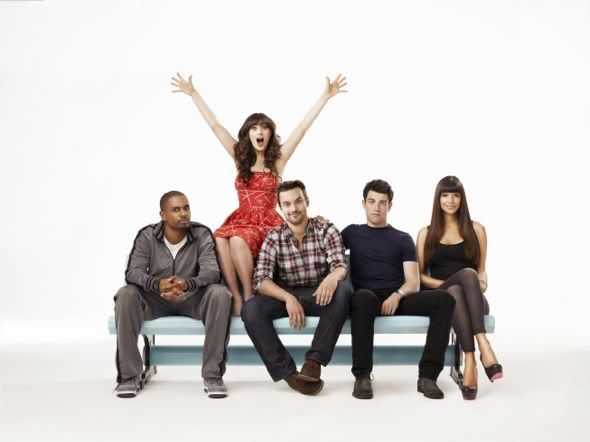 When and Where:
FOX; Tuesdays 9/8c; Debuts Sep. 20
Who:
Stars Zooey Deschanel; Co-stars Jake Johnson of No Strings Attached; Created by the writer of said film, Liz Meriwether
What:
Deschanel stars as Jess, who moves into an apartment with three guys following a messy breakup. In the time that follows, she proceeds to get her life on track and contemplate her next personal move.
Why:
Since both
That 70's Show
and
Malcolm in the Middle
ended in 2006, FOX has been relatively lax with new live-action comedies and seemed to have allowed their animated sitcoms to make up for it. In the mean time, the Sunday night block was able to represent the network's comedic offerings perfectly whilst the best they could offer in the live-action arena was the Brad Garrett dud,
'Til Death
which ran for four seasons, two of which went straight under the radar.
This past season, on the other hand at least yielded one very good comedy --
Raising Hope
. This new show will lead into
Hope
, representing a reasonable gamble considering how middling the numbers for the latter wound up in it's first season. (And yet, one must consider the lead-in of
Glee
, which will at least help for the debut.) Unsurprisingly,
New Girl
comes off as FOX's most ambitious new live-action comedy.
Deschanel propels herself into TV (following into the same network employing her sister, Emily over on
Bones
) as the quirky Jess. So far, she really seems to steal the show. One of this character's many attributes and ticks has her sing a theme song to herself, offering the lyrics "Who's that girl? It's Jess!" She even sings this when walking in on her boyfriend and discovering that's he's been cheating.
We don't see much of her male co-stars in the promos. Of course, this could be because one of them won't be on the show for long. Damon Wayans, Jr. had
New Girl
as a backup in case ABC didn't renew
Happy Endings
, and that renewal happened after FOX picked up this show. Regardless, the trailer posted below has the inciting role for the males to play to propel Jess into seeking her rebound.
Overall, the buildup is sort of underwhelming but I think this has some potential. I still haven't seen
No Strings Attached
, although as I write this it's lying around my house waiting to be viewed before it goes away, so I can't make comparisons there. Deschanel is a fine actress, and I enjoyed her presence in
Elf
and
(500) Days of Summer
. It might be interesting to see how this develops over time, and I do feel inclined to tune in leading into
Raising Hope
.
Lynx:
Official Fox Network Page
Facebook Page
Trailer: