ONCE UPON A TIME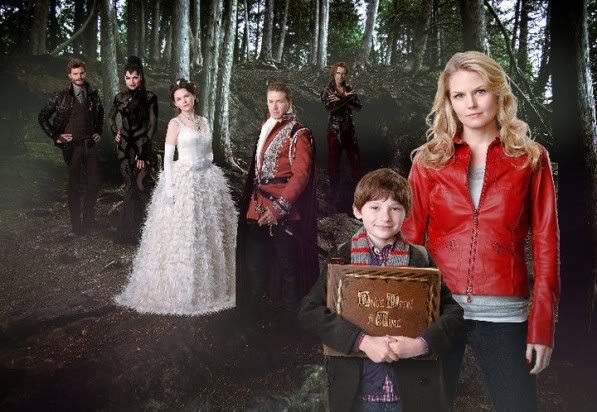 When and Where:
ABC; Sundays 8/7c; Debuts Oct. 23
Who:
Cast includes Jennifer Morrison and Ginnifer Goodwin
What:
A woman and her estranged son come across the town of Storybrook, Maine, and see a plethora of fairy tale stories come to life in it's citizens. In reality, these people are under a spell and completely lack any memory of their previous lives.
Why:
How fitting, the one I didn't get done on time is starting on a delay anyway. (As are the other two shows I had slated for Friday.)
I don't know what it is about ABC. That my earliest childhood memories involve TGIF and light-hearted sitcoms, or as I said last year, that their promos just come off as infectious and heavily engaging in how they play. Regardless, this one network draws my attention in ways vastly different from any other, and I can hardly tell if its for the best or the worst.
As far as this season is concerned, ABC has equal parts ambitiously-designed new dramas (with this show, and their own 60s period piece
Pan Am
, drawing plenty of parallels with
The Playboy Club
) and equal parts safe-in-design new dramas (I think that applies to the reasonably-hyped
Revenge
with Emily VanCamp, as it does the new
Charlie's Angels
). Compare with the similar setup last season with
No Ordinary Family
with
My Generation
and
The Whole Truth
and
Detroit 1-8-7
, all of which didn't live past the end of the season. The same goes for 2007, when
Pushing Daisies
and
Dirty Sexy Money
(further complemented by the ambitious spinoff,
Private Practice
) really left an impression and managed to live one season past the Writers' Strike.
Personally, I believe the more riskier new shows this season have the potential to leave as much as a mark as the 2007 shows. Just hope they can take off well enough, though.
But for now, let's just talk about
Once Upon a Time
. This is actually one of two new fairy-tale based shows launching this season, the other one I will discuss later on today. Here, we've got a unique mystery premise that starts off with a major reveal and leaves us wondering how this came to be. From the previews, the look of the show really helps me recall
Pushing Daisies
, and that show's lush, stylistic CG and set design. The result is a full design and a really engrossing atmosphere that suits the fairy tale concept all too well.
Yes, I would say that this show has potential. It looks like it could really,
really
work.
Lynx:
Official ABC Page
No Facebook Page Yet
Trailer: